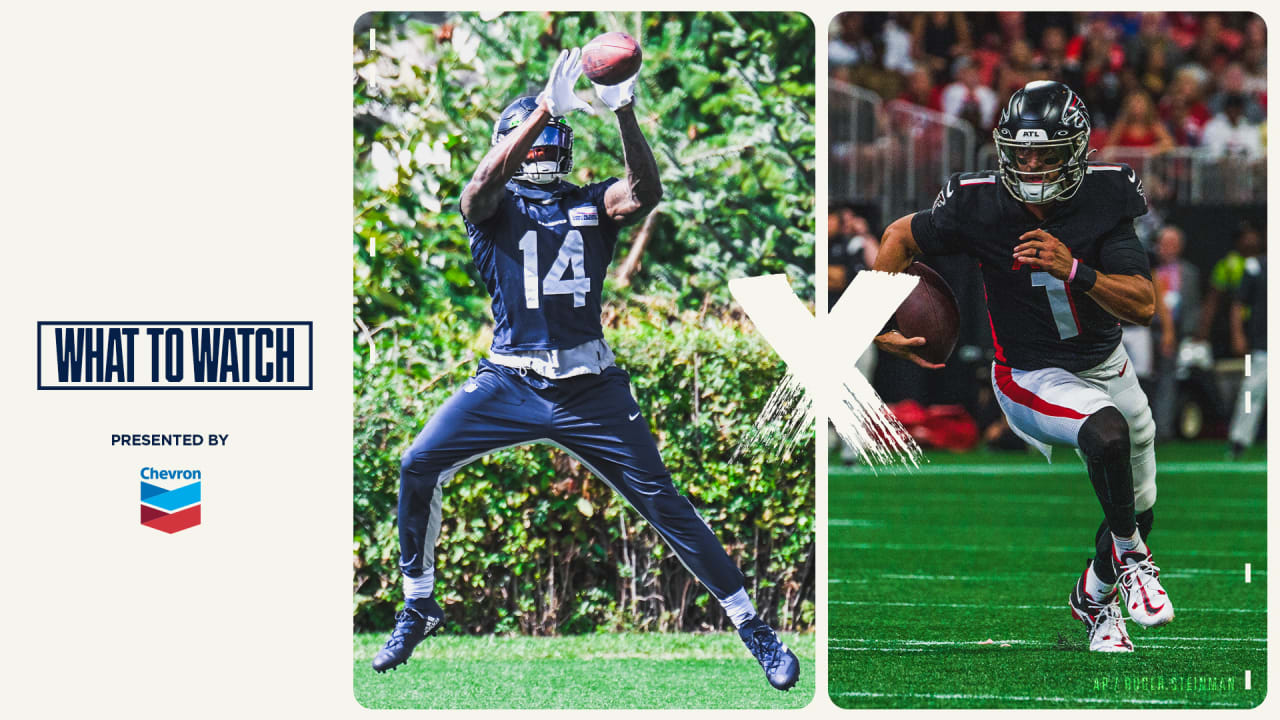 The Seahawks return home in Week 3 to host the Atlanta Falcons, with both teams trying to bounce back from the losses in Week 2. If the Seahawks want to improve on last week's performance, they know they're back on the offensive. should be on the right track. while also clearing some mistakes in defense.
"Man, this is an important week for us to get back home and get our act together," said Seahawks coach Pete Carroll. "We didn't do what we wanted to do last week, so all phases are necessary, everyone has to contribute. We have to put in a good game here. We have worked very hard in that direction to prepare to play smart and play well and don't give a bunch of stuff away – penalty kicks and the ball and all that stuff. So I'm looking for us to bounce and turn this thing back and get it rolling."
And with that in mind, here are five things to watch for when the Seahawks host the Falcons at Lumen Field on Sunday:
1. Geno Smith has been historically accurate, could he and the passing game be more explosive now?
Dating back to last season's win over the Jaguars, Seahawks quarterback Geno Smith has completed 80 percent or more of his passing attempts in three consecutive games, making him the only quarterback in league history to achieve that statistic.
But for six of the eight quarters the Seahawks have played this season, that high completion rate hasn't translated into points, with the offense delivering 17 points in the first half of a Week 1 win over Detroit, and no points in the six. quarters followed.
One way the Seahawks hope to get the charge going is by getting more out of what has been a quiet game thus far, but another factor, as Carroll emphasized this week, could be calling on Smith and the passing game. to do a little more, not necessarily in terms of passing volume, but rather in pushing the ball across the court. And that's not to say that the Seahawks are suddenly going to renew their entire attack, but rather, as Carroll has pointed out, Smith has played well enough in games and practice to gain the complete trust of his coaching staff to the point that Carroll doesn't. It wants to be restrained in the kind of passes the team throws to attack the opponent's defense.
"My confidence in him has only grown," said Carroll. "He's had another fantastic week. He's just on his game. Nothing's going to change drastically, but he's just proved he's ready. Pre-season and off-season preparation and everything has collapsed to where now he's really ready to go, so when the opportunities arise, we're going to count on him to do things. There's no hesitation."
As for that unique set of 80 percent completion rates, Smith isn't too concerned about that specific number, but rather about doing whatever it takes to keep the offense moving.
"The goal is always to be efficient," Smith said. "I'm not really concerned with that (completion rate) too much, I think it's just circumstantial. Obviously I want to complete 100 percent of the passes I throw, I'm going to try and complete them all. The important thing is again to stay on track as an attack and to put us in the right position to play. But that happens, I don't really care. We just want to win."
2. Will the defense continue to shine in the red zone?
The Seattle defense has some trouble to clear up (see the entry below), but one of the reasons the Seahawks won in Week 1 and had another chance to come back in the second half last week was the game from the defense in the red zone.
In Week 1, the Broncos scored no touchdown in four trips to the red zone, and came completely empty on two of those trips, turning the ball over at the goal line. Last week, the 49ers were in the red zone 2 for 5, settling for three short field goals, one of which was blocked and came back for a touchdown.
Ideally, the Seahawks will clear up some of their problems and keep opponents out of the red zone more often, but at least the defense knows that no matter what else is going on, they can stand strong when a opponent on the door of the end zone. "It's the bend but don't break mentality," said safety Josh Jones. "(Linebacker coach John Glenn) says it all the time and that's kind of a defense room theme, 'Just give us a blade of grass and we'll defend it.' That's the time for boys to bow. They go down, but of course the goal is not to let them in and not to score. Then if we can just take them for a field goal, that would be nice. but if If we can get the ball away, that would be great. You've obviously seen that we've done it a few times in week 1."